 San Antonio, TX – After dedicating his life to being ready to care for patients, Frank Acevedo, the Chief Nursing Officer at Valley Regional Medical Center in Brownsville, found himself as a patient in the hospital needing a life-saving kidney transplant. Frank was surprised to find himself on the other side of healthcare.
"Working in the hospital, we do a lot of organ procurement. I've been the scrub nurse in the operating room for some of those cases," said Frank. "You never think you are going to be on the other side receiving that. You never think, one day this could be me receiving one of these organs."
Frank has worked at Valley Regional Medical Center in Brownsville, Texas, for 24 years, moving up the ranks from a scrub tech to the C-Suite in his hometown hospital. In 2017, he was diagnosed with end-stage kidney disease.
"It was a complete surprise," said Frank. "Doctors are not exactly sure why, but I think it is a combination of having small kidneys and high blood pressure."
Frank called his family together to give them the news and ask for their help. His sister Elisa Aguilar, 33, remembers the family meeting they had to discuss Frank's health situation. She says he provided them with a lot of information, in case anyone would be willing to start the process to become an organ donor.
"It was an emotional conversation with everyone, especially for me. I had just had my second daughter, and I was really emotional," said Elisa. "I was hurting for him, feeling his pain and his hurt."
Elisa decided to get tested to see if she was a match for her older brother.
"When we started the process, I left it up to God. If I was a match, I would let his will be done," said Elisa. "We did the tests and labs and discovered I was a match."
Frank did his research and found that Valley Regional Medical Center, an HCA facility, had a connection to the largest living kidney transplant program in the nation. Methodist Hospital | Specialty and Transplant in San Antonio set a record in 2019 for doing the most living donor kidney transplants in the nation. He called the Chief Nursing Officer there to learn more.
After going through the process, the transplant team in San Antonio scheduled the surgery for June 26. Frank and Elisa waited to tell their parents they were a match until they had scheduled the surgery, because they did not want them to worry. The transplant was a success and both Frank and Elisa are doing well. They are both back to work and closer than ever.
"All along, I just wanted to help him. I love him," said Elisa. "When he says that I'm his hero, I say 'I don't feel like a hero. I am just a girl who loves her brother.'"
To learn more about living donor kidney transplants, you can visit our organ donor webpage.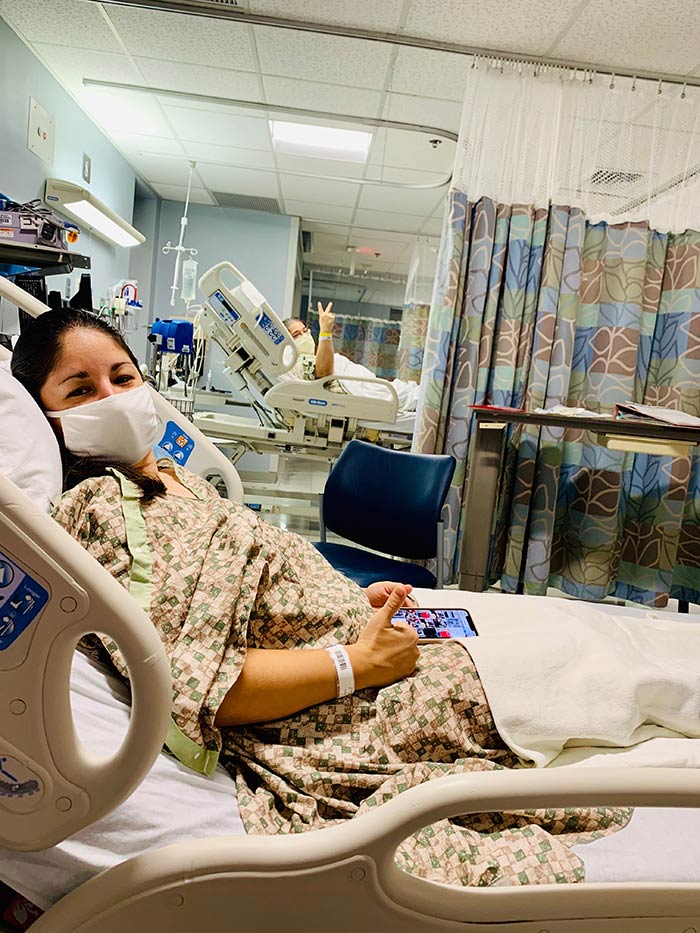 Elisa and Frank in the hospital.
News Related Content